Error 0x80004005 is an unspecified type of Windows error, usually appearing as "Error 0x80004005. Unspecified error". Error 0x80004005 can appear alone or together with other error messages. This usually happens when users cannot access drives, shared folders, Microsoft accounts, etc. Moreover, this error message is also standard when Windows update installation is not completed. This is a "unspecified error", so it can have many causes.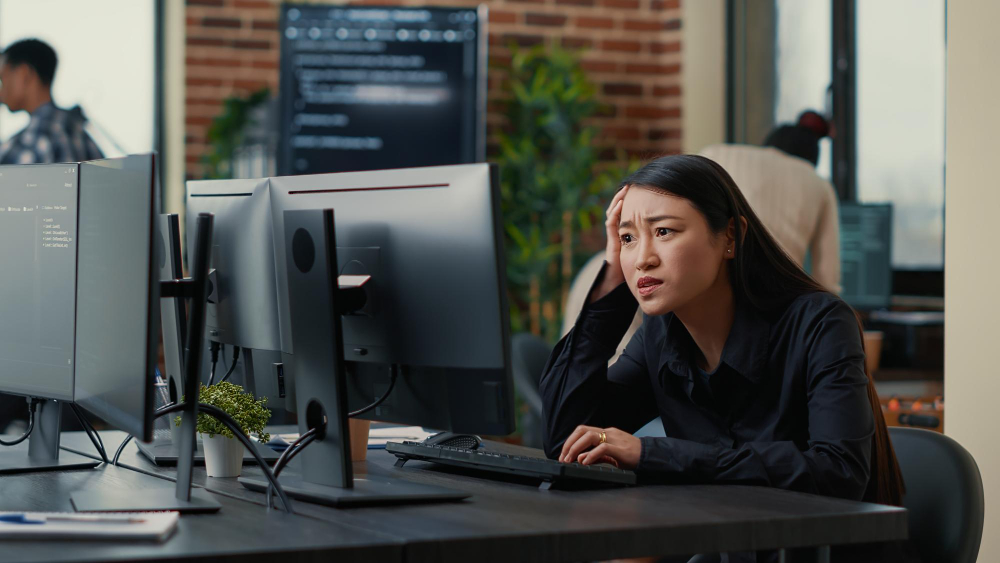 What is the reason of Error Code 0x80004005?
Error 0x80004005 is a type of Windows error that can be found in many situations. It is frustrating to accidentally block tasks such as installing updates, using Outlook, and accessing shared files. Here are the most common causes of error code 0x80004005:
Installing a Windows update.
Installing or Updating a software.
Accessing a shared network resource.
Receiving emails in Outlook.
Moving or renaming files and folders.
Problem with Extracting compressed file.
VirtualBox to run VMs
1. Error Code 0x80004005 While Windows Update
The most common causes behind the unspecified 0x80004005 error are Windows update issues, corrupted files and folders, and zip file extraction errors. This can make dealing with errors a little trickier than usual, but one of these methods should help. So, here's how you fix Windows error 0x80004005.
1.1 Run the Windows Update troubleshooter
This 0x80004005 error can occur if automatic Windows updates fail or if files downloaded from Windows Update are corrupted. The easiest way to fix Windows update problems is to run the automated troubleshooter. This utility is able to identify and fix common errors that can occur during updates. Run the Windows Update Troubleshooter by following the steps below:
Press Windows Key + I to open Settings, then head to Update & Security.
On the navigation bar towards the left, click on Troubleshoot.
In the Troubleshoot window, click on Windows Update under Get up and running.
Click Run the troubleshooter.
1.2 Reset Windows Update components
Delete everything in the Windows Update Downloads folder. If the automatic troubleshooter doesn't fix the problem, open Windows Explorer, navigate to C:\Windows\SoftwareDistribution on Windows 11 or C:\Windows\SoftwareDistribution\Download on older versions of Windows and delete everything in the folder. You can reset windows update components using following step to fix 0x80004005 error.
Search for Command Prompt, right-click the result, and select Run as administrator.
Type the net stop wuauserv command to stop the Windows Update Service and press Enter.
Type the rd /s /q %systemroot%\SoftwareDistribution command to clear SoftwareDistribution Folder and press Enter.
Type the net start wuauserv command to start the Windows Update Service and press Enter.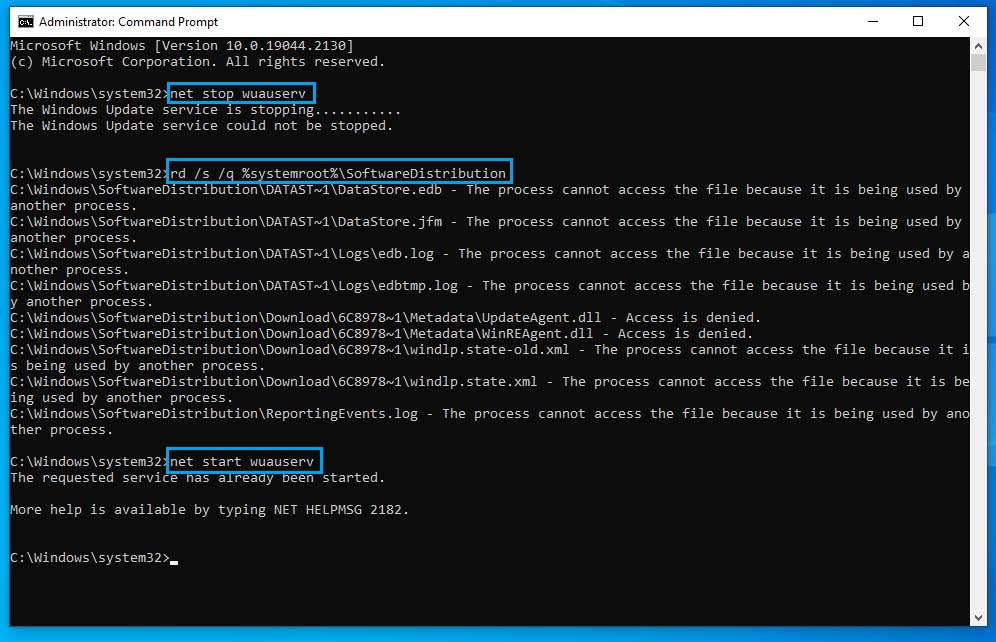 2. Error code 0x80004005 in Microsoft Outlook
Many Microsoft Outlook users have had this problem: When new messages arrive they receive the error message: 'Reported error code '0x80004005′ sending and receiving: The operation failed'. Additionally, some users may receive error code "0x800ccc0d" when trying to send email. This problem can be caused by antivirus software or registry issues such as missing or corrupt registry keys.
If you see the "0x80004005" error code when accessing your email in your Outlook client, it may be due to one of two reasons:
Your antivirus software is blocking the retrieval of messages received.
There's a problem with notifications for new emails received.
2.1 Your antivirus software is blocking the retrieval of messages received.
A quick and easy way to check if the first case applies is to temporarily disable your security software and try to access your messages again. If it turns out that the software is indeed responsible for the access problem, you should contact the manufacturer directly or find another solution.
2.2 There's a problem with notifications for new emails received.
If your problem is that new email notifications are not working, you can fix the problem by disabling the feature. To do this, open Outlook options:
Go to File and open Option.
Go to the "Mail" category.
Then deactivate the option "Display the Desktop Alert" in the "messages arrival" area
confirm the change with "OK".
3. 0x80004005 Error while moving, and deleting folders and files
If you are getting this error 0x80004005 while deleting and moving files and folders to another folder. This could be due to incorrect folder permissions and Windows not detecting them. To fix this, follow the steps given below.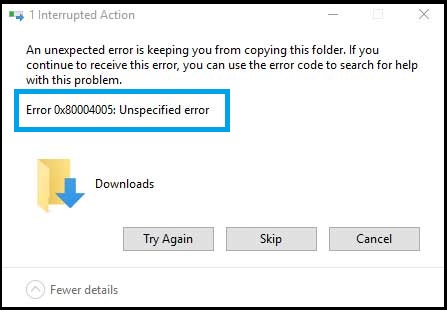 3.1 Change Folder Permissions Settings
In most cases, the error occurs because you do not have proper permissions on the folder and this problem occurs. In this case, you need to change the permissions to get full control of the folder. To change permission settings, do the following Step:
To change the folder permission, right-click the folder and select Properties.
Then, go to Security and select your account under Group or user names.
Then, check if you have full control over the folder or not. If not, click Edit and select the user and mark on Full control option. to get the permissions over the folder.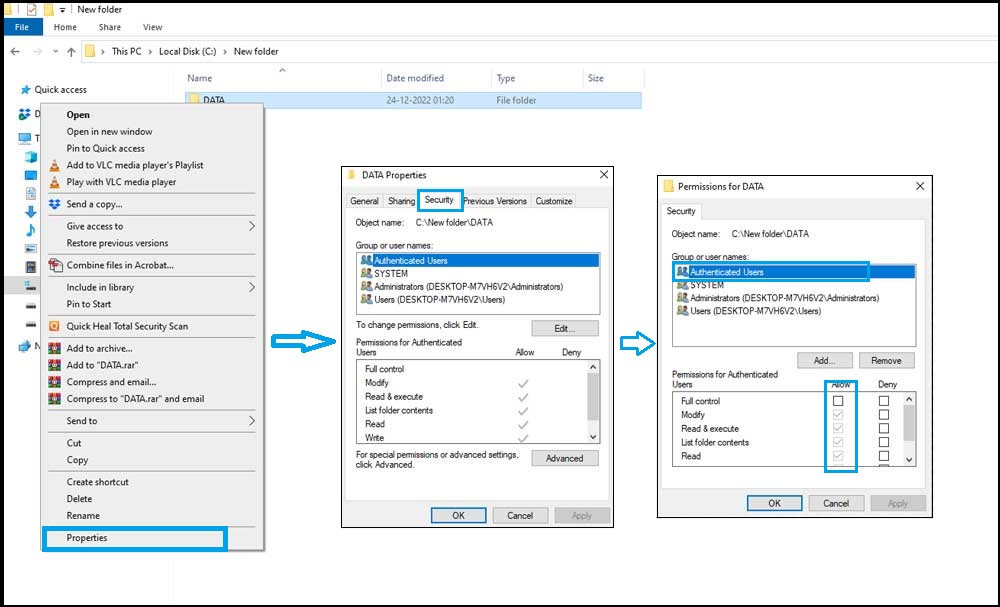 4. 0x80004005 error while Extracting compressed file
You might get this error if the compressed file you're trying to open with windows explorer and Windows can't open that file. To fix this, you need to download archiver software like WinRar or 7-Zip to extract the folders. Follow the steps to extract the folder using archive software:
4.1 Use Archive Software to extract the folder
Once it's done, install it on your computer.
Then, right-click the file you want to extract.
Select Extract to "Folder."
Once done, check if the issue persists.
5. VirtualBox E_FAIL (0x80004005) Error While accessing VM's
VirtualBox is an open source type 2 hypervisor for x86 virtualization. It can be installed on Microsoft Windows, macOS, Linux, Solaris, and OpenSolaris. It supports the creation and management of guest virtual machines running Windows, Linux, BSD, OS/2, Solaris, Haiku, and OSx86, as well as limited macOS guest virtualization on Apple devices.
Many people use VirtualBox to run virtual machines. However, some people report that they get a VirtualBox E_FAIL (0x80004005) error when starting the virtual machine.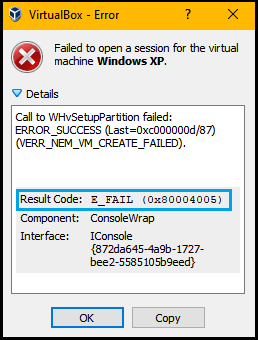 5.1 Use CMD (Command Prompt) to Disable Hyper-V
Starting with version 6.0, VirtualBox can use Hyper-V API to coexist with Hyper-V. If you are using an older version of VirtualBox, it may not be compatible with Windows Hyper-V. VirtualBox VM does not start when Hyper-V is enabled.
Result Code: E_FAIL (0x80004005) may be caused by Hyper-V, and many have confirmed that disabling it resolves the issue. However, disabling Hyper-V in Windows Features may not work. Hyper-V should be disabled using CMD. Here is the guide:
Type "cmd" in the Windows search bar, right-click the best-matched result, and then click Run as administrator.
Execute this command: bcdedit /set hypervisorlaunchtype off.
Restart your PC and start the VirtualBox VM again to see whether the problem is solved.
6. How to fix Microsoft Windows Store error code 0x80004005?
This error can also occur when updating Microsoft apps in the Microsoft Store. An easy way to fix this problem is to reset the Microsoft Store. This should work for most affected users. To reset Microsoft Store, follow these steps:
Open the Run Window by pressing the Win + R keys together.
Enter wsreset.exe in the search box and click OK.
Once done, check if your issue is resolved.