Having the right device drivers for your devices is crucial for the smooth operation of a computer system as well as the attached hardware devices. In this post, we will list some of the best free Driver Updater software for Windows 11/10 PCs. Device drivers are an essential part of a computer system, but we frequently ignore them, which may eventually lead to a number of performance problems.
Device drivers are programs that facilitate effective communication between the operating system and the hardware of your PC. However, occasionally these drivers deteriorate or are damaged. For this reason, you require driver update software that renews your system drivers and makes your PC run like a brand-new system.
You can keep your system stable by updating all of the device drivers with the aid of a free driver updater. Or, it also corrects any bugs that may have existed. Using the best driver updater software is the ideal solution for everyone. If you want to update your pc driver manually, it can take a lot of time.
What can Driver Updater do for your PC?
In case you're unsure what they do, drivers actually "drive" i. e. your graphics card, sound chip, and other necessary hardware are powered, which is important for your PC experience.
Up to 70% of "blue screens of death" (BSOD) are caused by problematic drivers, according to a recent Microsoft analysis. The dreaded Windows blue screen also referred to as "Stop errors," indicates that a fairly serious issue has arisen with your computer. Driver power state Failure and internal power error are examples of such errors which arise due to driver failure.
Driver updaters are smart utilities that fix any driver problems in your system. Your system's stability and performance will be enhanced by these apps as they download and install out-of-date or missing drivers. They also address some of the most typical issues with the Windows operating system.
These softwares enable you to rapidly resolve driver issues without having to manually find and identify the missing or out-of-date drivers in your system, then look for them online, download them, and install them one at a time.
Best Free Driver Updater Software for Windows 11/10
The top free driver updater tool to keep your Windows 11/10 PC operating efficiently and update your drivers and software are listed below. This software makes it simple and easy to update device drivers, and they are especially useful for people who don't want to manually check for driver updates or download drivers from the manufacturer's website.
1. Windows optional Update
The most recent drivers for your computer's hardware might need to be found and installed after installing Windows 10 from scratch, in some cases, after updating from a previous version of Windows. So Windows update is one of the best and easiest ways to update the drivers.
A device driver on Windows 10 and Windows 11 is a collection of files with instructions that enables the system to communicate with particular hardware (such as a graphics card, hard drive, and network adapter) and peripherals, such as mice, keyboards, printers, monitors, and many others.
Windows Update installs a generic package of the device drivers, Windows will detect and install devices automatically using a combination of the local basic driver library and Windows Update. In this step, we will explain how to update drivers with Windows updates.
To update device drivers using Windows Update, use these steps:
Open Settings.
Click on Update & Security.
Click on Windows Update.
Click the Check for updates button (if applicable).
Click the "View optional updates" option.
Select all Drivers.
Click on Download and Install.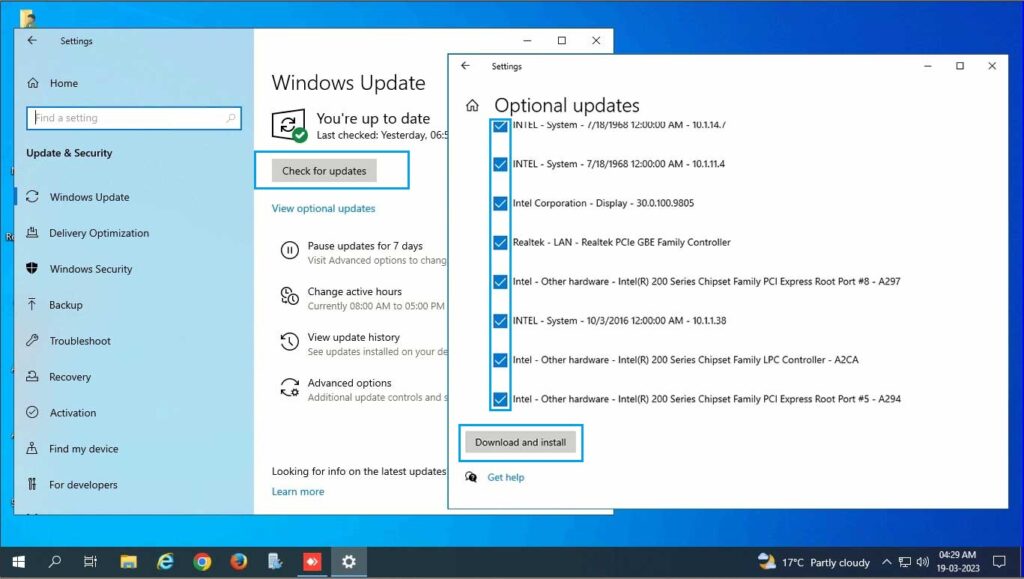 Also Read:
2. DriverPack Solution
One of the best driver updaters is DriverPack Solution, which quickly and automatically finds and updates all of your system's out-of-date drivers. It's a program that saves you time and spares you the trouble of manually identifying the drivers. Additionally, the application supports Windows XP and higher and has a straightforward interface free of any unnecessary options.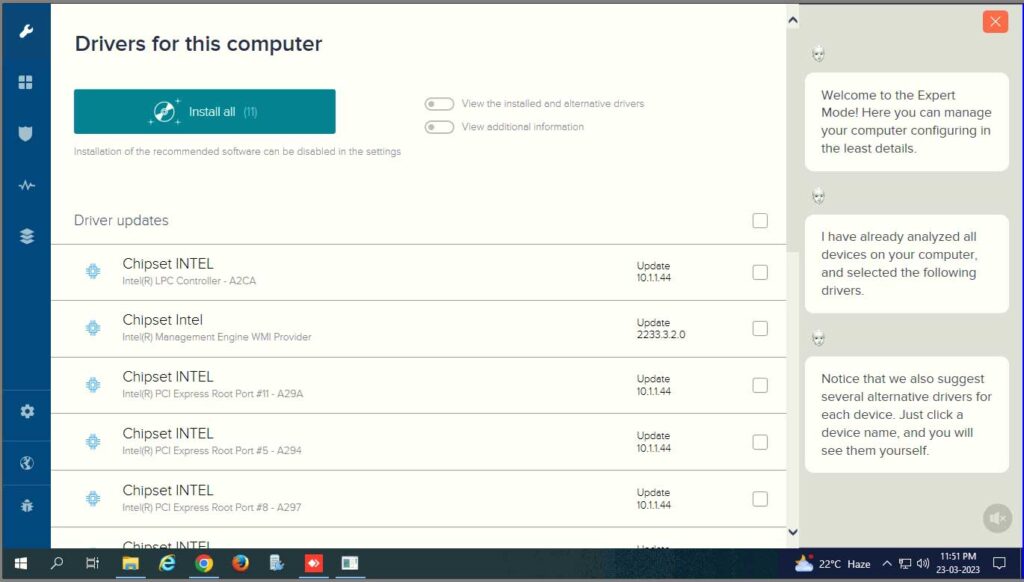 Pro(s):
Automatically locates necessary drivers on your system.
Lets you download and install drivers in one click.
Allows all driver update at one click, unlike another driver updater.
Completely free and safe to use.
Massive device driver database.
Supports numerous kinds of hardware devices.
It is available to download the full offline suite.
Con(s):
No option to schedule driver scans.
Requires a strong internet connection.
Installs unnecessary software without asking, if you are not using Export Mode.
Download: Completely Free
3. Snappy Driver Installer
Snappy Driver Installer is a useful program that enables you to install and update the drivers on your Windows system. Because it can operate without an internet connection, it is the best application to use if you recently formatted your computer or updated the OS. This software also notifies users whenever an update is available, if the option is chosen.
This is the best driver updater because it enables you to download multiple drivers for various device types at once. The best part is that you don't even need an internet connection to install the updates once they've been downloaded.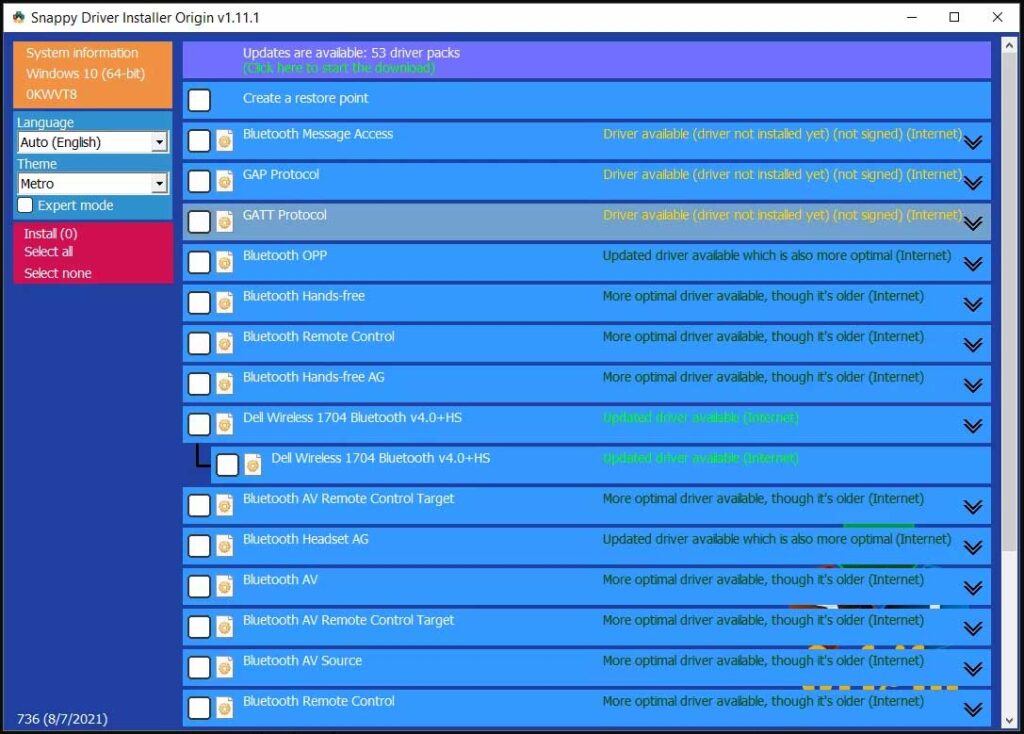 Pro(s):
Completely portable (no need to install necessary).
Supports offline driver installations,
It is possible to download the full pack for offline use.
It does not show any advertisements.
Con(s):
Scan schedules aren't supported.
Not easy to use as another driver installer.
Download: Completely Free
4. AVG Driver Updater
AVG updater software is next on the list of free driver updater for Windows 10/11. When it comes to fixing outdated drivers instantly, AVG Driver Updater Software is a good choice for both professional and novice users.
Using AVG Driver Updater, driver problems can be quickly found and fixed. This software auto-scans the PC and looks for outdated, missing, or corrupt software updates and fixes it. It makes it easier for you to choose the official drivers from 100 major brands.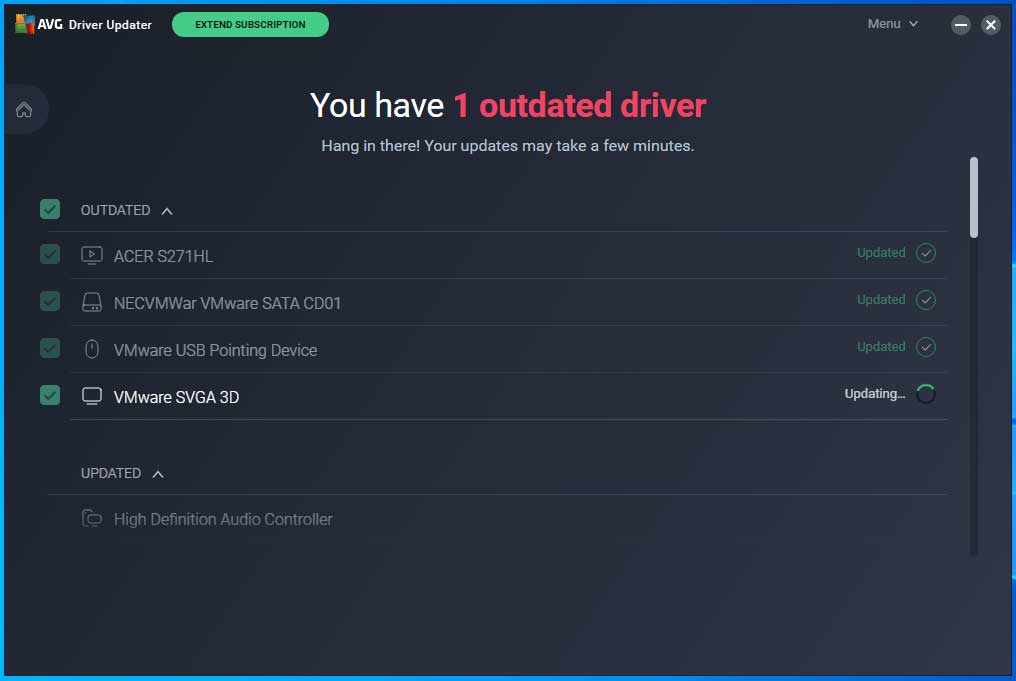 Pro(s):
Semi-automatic driver download & installation.
Best driver updater reviews.
Provides official drivers from top hardware companies.
Features real-time scans.
Flexible scheduler for scanning device drivers.
Availability of driver source details.
Clean and intuitive UI.
Con(s):
The advanced version is paid.
Not available for mobile platforms or the Mac OS.
No additional PC optimization features.
Quite pricey compared to other driver updaters.
Download: (Free trial for 15 days, Subscription at $43.99)
5. DUMO by KC Softwares
A Windows freeware driver installer program called DUMo Update Monitor will automatically check to see if the most recent drivers are installed for your system's hardware, keeping your computer secure and up to date. You don't need to manually check for updates if Dumo is installed on your PC because it will alert you whenever a driver update for your PC is available.
Some of the most user-friendly Windows applications have been created by KC Software. Furthermore, they most recently released a Driver Update Monitor program for Windows 10, 8, and 7 users. This program detects necessary drivers using Microsoft's extensive list of devices and drivers, unlike other driver update tools.
This significantly lowers false positives while updating the hardware drivers. Additionally, DUMO will provide you with the most recent hardware driver versions. However, the best thing about DUMO is that it doesn't include any adware or bloatware.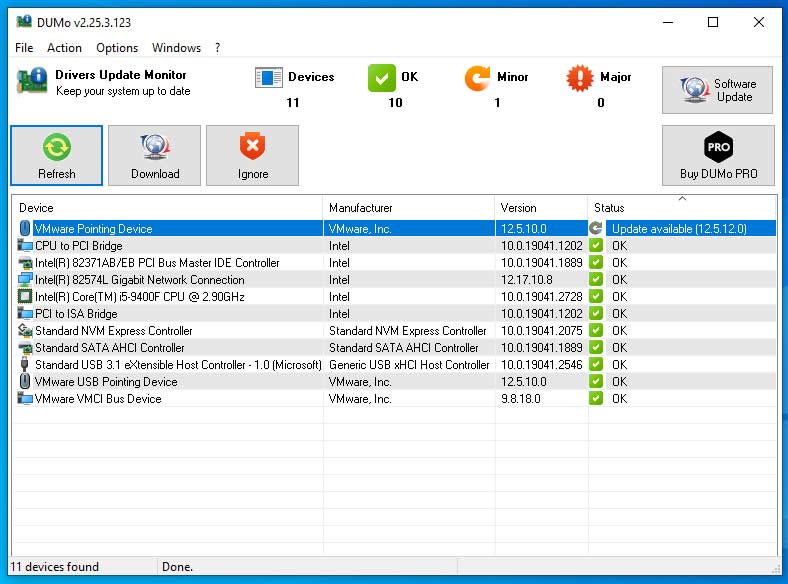 Pro(s):
Easy to understand and use.
Automatic scan function.
one-click update
Con(s):
Doesn't offer free download of some drivers.
Wait for 12 Second to download the driver.
Download: (Free, Pro version starts at $24.99)
Also Read:
6. IObit Driver Booster Free
The ideal solution is Driver Booster. It works with every version of Windows and makes updating drivers simply by taking care of all the labor-intensive tasks for you. More than six million drivers and more than a thousand brands support Drive Booster, which is compatible with all Windows versions. When updates are available, this free driver updater can automatically download them.
It is useful to be able to compare a driver's new version to the one that is already installed before installing it. Before installing a driver, the program creates a restore point in case something goes wrong during installation. Other options include the ability to roll back drivers, remove drivers, ignore drivers, export a list of drivers to a text file, and view system info details.
Pro(s):
Scans for outdated drivers on a schedule.
Creates a restore point before updating the drivers.
Fixes common Windows issues.
Supports all Microsoft Windows operating systems.
Offline driver update tools.
Installs drivers directly from the program.
Con(s):
A button to purchase the pro-Edition is always showing.
Promotes the company's additional programs inside of this one.
Tries during setup to install unrelated programs.
Doesn't support bulk/auto-downloading for some drivers
Download: (Free, Subscription at $19.95/Year)
7. Device Doctor
One more free driver updater is DeviceDoctor. You can check every driver with the aid of this tool, which also offers an update from its database. Each driver is cached, enabling quick downloads.
This version of the driver updater is completely free and automatically scans your computer to determine which device drivers are malfunctioning and interfering with the smooth operation of your system. Device Doctor's ability to identify "unidentified devices" in the Device Manager and find the proper drivers for them is what makes it one of the best free driver update programs.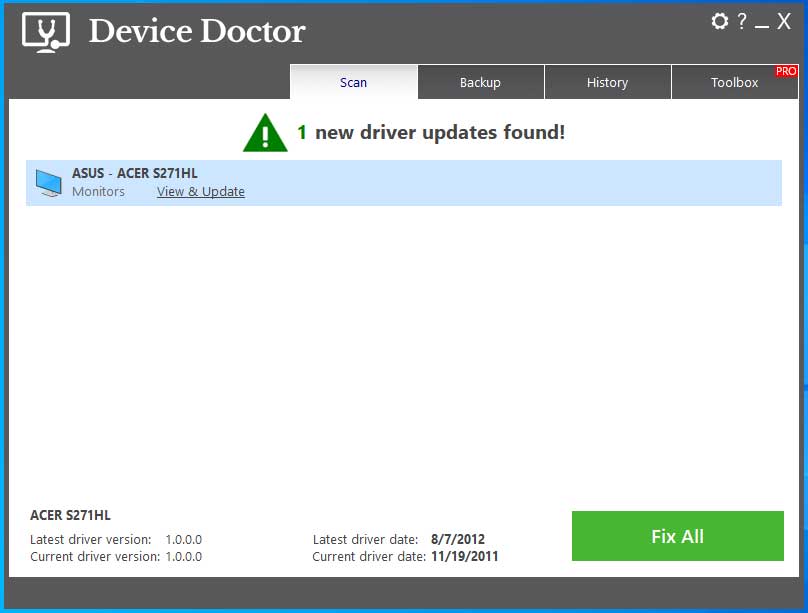 Pro(s):
Clean and simple interface.
No malware or adware.
Supports Windows XP, Vista, 7, 8, 8.1, 10, and 11.
Can update unknown devices.
Easily updates both certified and non-certified drivers.
Con(s):
Don't take a backup.
Include advanced features with the pro version.
Update drivers one by one, Fix all work with the Pro version.
Download: (Free, Subscription of Device Doctor + Advanced Pro Module at $45.99/Year)
8. Advanced Driver Upda
Advanced Driver Updater is another top-rated free Windows driver updater. For PC or laptop devices, the software offers automatic driver updates. The manual effort and search time needed to find compatible drivers can be reduced by using these driver updates. Furthermore, automatic driver updates prevent compatibility or performance issues with your hardware.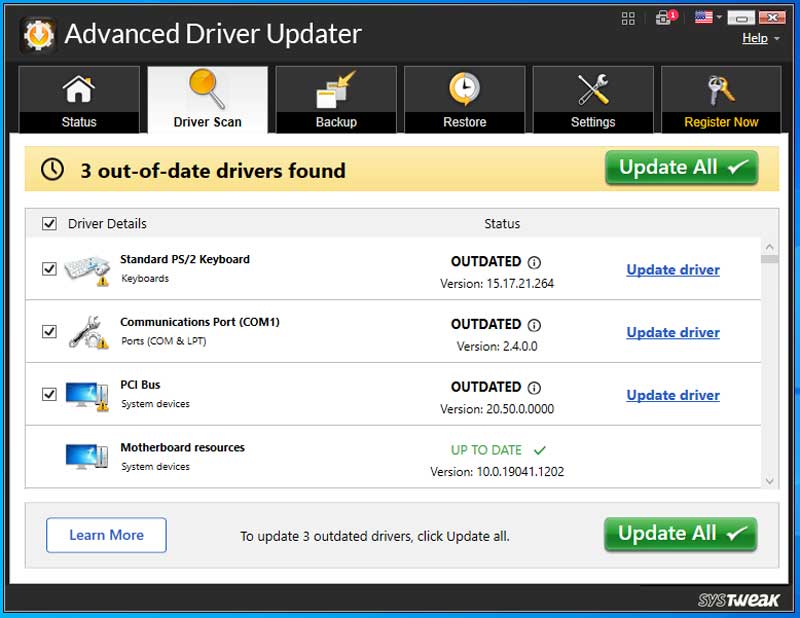 Pro(s):
Adds incompatible drivers to the exclusion list.
Offers full and partial backups.
All drivers are checked for malware.
Huge driver database to get the latest & compatible drivers.
Backup & restore old drivers to avoid any issues.
Set automatic scanning scheduler.
Con(s):
Adds too many tasks to autostart.
High Internet traffic.
Update Manually with the free version.
Download: (Free, One-year Subscription at $39.95)
9. WinZip Driver Updater
Another free driver updater tool called WinZip Driver Updater can be used to update the device drivers on your Windows 11 or Windows 10 computer. The tool not only downloads the driver but also backs up the old driver and sets a system restore point before installing the new one. Without signing up, you can use the free version.
The program not only assists in automatically detecting drivers for Windows 10, 8, and 7 but also enables you to quickly and safely install them for optimal hardware performance. It might be on the list of top driver updaters for 2023, but it is unquestionably worth a shot if you want to update device drivers automatically.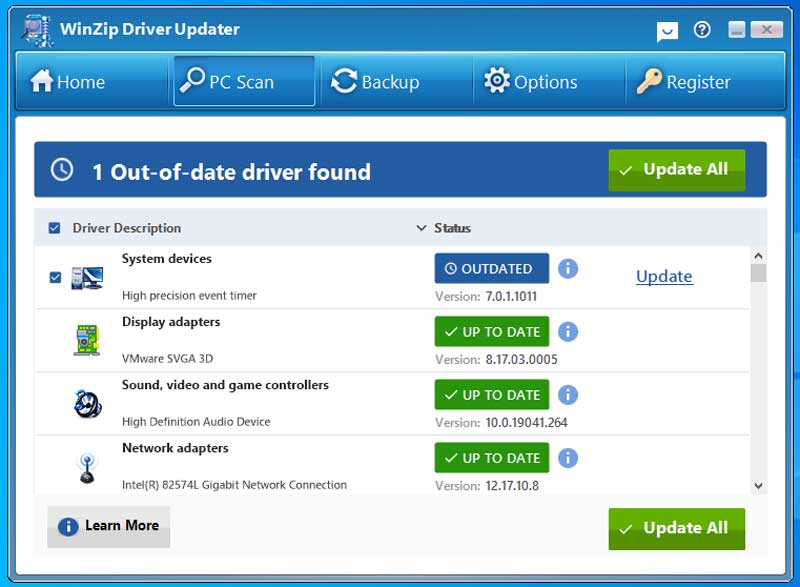 Pro(s):
The trial version offers many useful features.
Automatically creates restore points.
Helps you to repair driver-related errors.
Provides driver recovery from a backup point.
Quick and easy installation.
support Windows 11, 10, 8, 7, Vista, XP
Con(s):
No data about the driver database.
Relatively expensive.
Only for Windows.
Promoting an addon program in the notification tray.
Can't Download or Install the drivers in one click.
Download: (Free, One-year Subscription at $29.95)
10. Auslogics Driver Updater
As one of the top free driver updater programs that actually fulfills its promises, Auslogics has been in business for almost ten years. The free driver updater from Auslogics should be installed by anyone who wants to avoid compatibility issues and guarantee smooth hardware operation.
It is a quick and simple program that 20 million users trust to optimize Windows performance and fix driver-related issues. The program also has a clear, clutter-free interface that makes it simple to use and carry out your desired tasks. It gathers all the effective tools and cutting-edge features in one location to assist you in troubleshooting issues with your speakers, cameras, printer, and other external devices.
Pro(s):
Installs the most recent drivers for your hardware devices.
Eliminates compatibility problems and driver errors.
Up-to-date device driver database.
Automatically creates restore points before installing drivers.
Quick and easy installation.
Effectively updates out-of-date drivers
support Windows 11, 10, 8, 7, Vista, XP
Con(s):
The free version offers a limited set of features.
Relatively slow driver download speed.
No live chat support for customers.
8 interface languages only.
Free Version only one driver can update at a time.
Download: (Free, One-year Subscription at $39.95)
11. Ashampoo Driver Updater
Ashampoo Driver Updater is the next program on our list of free driver updaters for updating drivers. If you want an easy way to update drivers on a Windows 10, Windows 11, Windows 8, or Windows 7 PC and are sick of having frequent system crashes, BSOD errors, or unexpected shutdowns, Ashampoo Driver Updater is what you need. This expertly created driver update program gives your PC a much-needed boost by resolving driver-related problems.
This program makes over 400,000 drivers for 150 000 devices available. It downloads and installs the driver for you, making Ashampoo's driver updater incredibly simple to use. It can also automatically create a restore point prior to the installation of every driver, back up and restore drivers as needed for security, and adhere to a meticulous scan scheduler.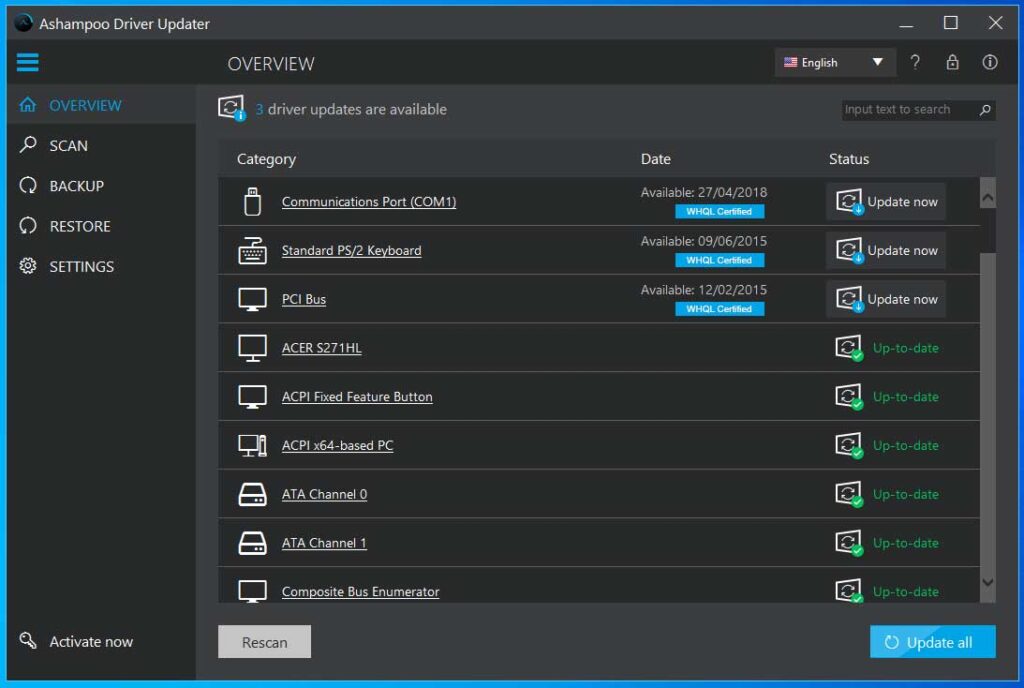 Pro(s):
Easy-to-use & setup.
Completely free from third-party ads.
Up-to-date device driver database.
Automatically creates restore points before installing drivers.
Scan automatically on a Schedule.
support Windows 11, 10, 8, and 7.
Single license for 3 PCs
Con(s):
Does not support Windows 8.1, Vista, & XP
The free trial version is not much efficient.
Some settings can't be changed unless you pay.
Free Version only one driver can update at a time.
Download: (Free, One-year Subscription at $30 for 3PC)
12. Driver Talent
Driver Talent is yet another top driver update program that offers a wealth of potent features to assist you in quickly resolving all driver-related issues. Additionally, it has a built-in driver database that enables users to install the official system drivers that are the best fit without an internet connection. If you need to install drivers but don't have the right network driver installed, an alternative version that works offline and includes network drivers is ideal. From the program's Tools menu, you can also access a simple hardware information tool.
This program backs up all the installed drivers as well as updates any out-of-date or missing drivers as well as fixes any that are damaged. The software's Peripheral Drivers section specifically mentions printer and USB drivers, making it clear to you whether they are installed and functioning normally. Overall, this driver update software performs quite admirably when it comes to scanning for and updating device drivers, and it does so a little bit quicker than other comparable tools on this list.
Pro(s):
One-click finds and fixes driver issues.
Auto scan, install, and reinstall options.
Provides detailed driver information.
Automatically creates restore points before installing drivers.
Helps download and transfer drivers from one PC to another.
Works with all versions of Windows OS.
Con(s):
The scanning schedule can't be customized.
You have to download each driver one by one.
There are several features displayed, but they are not free.
Download: (Free, One-year Subscription at $17.98)
13. Avast Driver Updater
The ideal way to keep all of your hardware devices operating at peak performance is to use Avast Driver Updater. Your Windows 10 PC will experience fewer crashes and driver-related problems if you decide to install this software. The best driver updater for Windows 10 is unquestionably this one, which features a real-time automatic scan feature to find missing or outdated drivers and checks for the newest updates in a flash.
For the purpose of identifying and updating out-of-date drivers, many people use Avast Driver Updater. You can download approved drivers using it. You can use it to scan your computer for outdated drivers. This is one the best free driver updater tool that allows you to update the drivers once the system is connected to the Internet.
Pro(s):
It helps find all the outdated device drivers with one click.
Supports more than 300,000 hardware devices.
Clean and elegant interface.
Reduces the risk of freezing and crashing.
Low CPU usage consumption.
Ability to scan for driver updates in the background.
Con(s):
Shows pop-ups when switching tabs.
No free version (only 15 days trial).
There is a lack of features other than similar tools.
The driver sources are not shown in any way.
Download: (15 days trial Free, One-year Subscription at $43.99/PC)
14. Quick Driver Updater
Quick Driver Updater is a new entry in the list of best driver updater 2023. Based on a recent performance test that highlights its capacity to find and update outdated, missing, and corrupt drivers on a Windows machine. Installing Quick Driver Updater right away is recommended for anyone who wants to update outdated drivers without having to go through a difficult process. This program is the best utility for updating all outdated and corrupt drivers and resolving driver-related PC issues because it is packed with strong driver management features.
However, it's very simple to use, it operates quickly, drivers are downloaded and installed inside the program, and it's a great way to get a second opinion if you believe one of the other apps on this list missed a few updates. You can add drivers to the ignore list, search the list of installed and out-of-date drivers by keyword, and automatically check for updates on a regular basis.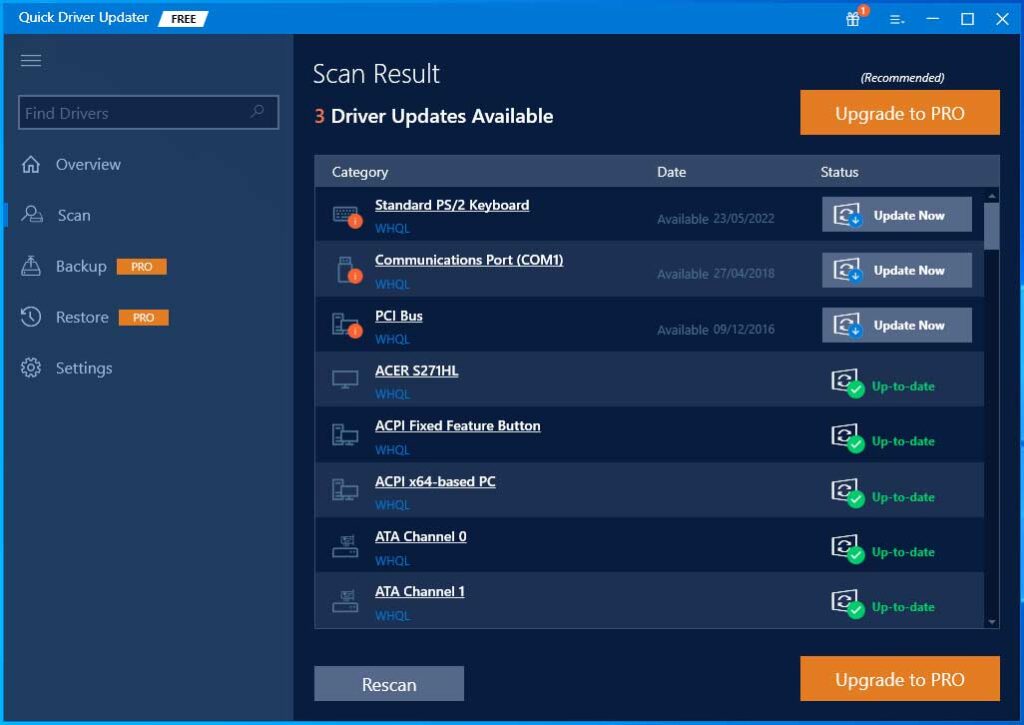 Pro(s):
Easy to understand and use.
The program is extremely fast and has an intuitive interface.
Driver backup and restore point creation are available.
Resolve all driver-related problems.
Doesn't display any advertisements.
Allows you to choose a scan schedule that will notify you of updates.
Con(s):
Each update must be installed separately.
To use its highly advanced features, you must upgrade to the premium version.
Download: (Free, $9.99 for Six Months)
15. Driver Easy
Driver Easy is another program on the list as we continue our discussion of Windows driver update utilities. If you don't know how to update drivers for Windows 10 but still want to maintain optimal hardware performance on your computer, all you need to do is download the best free driver updater for Windows 10—and Driver Easy is undoubtedly a wise choice.
The special feature of Driver Easy is its ability to automatically check for out-of-date drivers based on a schedule. When your computer is not in use or even each time you log into Windows, a scan can be scheduled for daily, weekly, or monthly intervals. In contrast to some comparable apps, this program doesn't launch a web browser on the user's computer but instead downloads drivers from within the program. Over 8 million drivers are included in its database.
Pro(s):
Smooth and efficient driver software.
It consumes fewer PC resources.
Displays full system and hardware information.
Scheduling is supported to check for updates automatically.
Doesn't display any advertisements.
Find the network driver you need even if you're offline.
Con(s):
Doesn't support bulk downloads.
The free trial version offers only basic functionalities.
No technical support for the free version.
A big "UPGRADE" button is always visible.
Drivers download slowly.
Download: (Free, $29.95/Year for 1 PC)
Whether or not you have upgraded to a newer operating system, your Windows machine needs to have updated drivers. You can get the best performance out of your computer and any connected hardware by updating the drivers on a regular basis. You can use this post to diagnose computer hardware issues if you so desire. For help troubleshooting and resolving device driver issues.
You can update Windows 11/10 drivers for free in a variety of ways. Windows Optional Update allows you to update your driver software. The official website of the manufacturer can also be used to download the update for drivers. Additionally, official apps like the Dell SupportAssist, Intel Driver and Support Assistant, HP Support Assistant, etc., are additionally available to keep your drivers current.