Error 0x800f081f is an update error associated with hotfix KB5000842 or KB5001391 released to resolve the previous printing issue. The update is not intended to update the system to the new Windows 21H1 designed to fix issues that existed before. Unfortunately, despite its importance, many users fail to download it properly due to the errors that cause the download to occur.
.NET Framework 3.5 could not be installed on a computer running Windows 10, Windows 11, or Windows 8/8.1, and the installation of .NET Framework 3.5 ended with error code 0x800f081f. While you try to update my system through the Windows Update option in settings, it keeps showing you an error message "There were some problems installing updates, but we'll try again later. If you keep seeing this and want to search the web or contact support for information, this may help: (0x800f081f).

What causes the Windows Update error 0x800f081f?
Error code 0x800f081f is usually caused by disabled or buggy .NET Framework software that does not implement proper communication with Windows updates. Usually, this is the main reason for code 0x800f081f. Error code 0x800F081F is one of four possible error codes that all indicate the same underlying problem. The other three are error code 0x800F0906, error code 0x800F0907, and error code 0x800F0922.
You will only see this error code in Windows 11, Windows 10, Windows Server 2016, Windows Server version 1709, Windows 8.1, Windows Server 2012 R2, Windows 8, and Windows Server 2012. On these operating systems, the Microsoft .NET Framework 3.5 feature enables on demand" (i.e. not enabled by default). When you try to enable the .NET Framework 3.5 feature requires the file then Windows Update tries to grab .NET binaries along with other necessary files. If your computer is not correctly configured, you might see the codes.
0x800F081F: Windows could not find the .NET source files for the installation to proceed.
0x800F0906: This error code occurs because the computer is unable to download the required files from Windows Update.
0x800F0907: This error code occurs if an alternative installation source is not specified or is invalid and prevented by the Group Policy setting.
0x800F0922: The processing of .NET advanced installers or generic commands failed.
How to Fix Error Code 0x800F081F in Windows 10
If the Microsoft .NET Framework causes error 0x800f081f, you may be able to resolve the issue by using the offline .NET Framework installer or manually enabling the currently installed version of the .NET Framework. The .NET Framework can be enabled using PowerShell commands, and the Deployment Image Management Tool.
1. Enable the .NET Framework Using a DISM tool Command
This Error Code 0x800F081F message basically states that DISM was unable to find the files required to fix the online Windows image in their default location. To resolve this issue you can use this DISM Tool to enable .NET Framework. Enabling the .NET Framework 3.5 feature allows Windows installation media to be used as a file source.
Before starting the use of the DISM tool, the first thing you need to do is to make sure that you have the Windows 10 ISO image. The ISO version should exactly match your current operating system. To begin with, you need to mount the ISO image. Open File Explorer and double-click the file to mount your ISO. You can also right-click the file and select Mount from the context menu.
Type the cmd in the Start menu search bar.
When you see the list of results, right-click Command Prompt and select Run as administrator.
Type the following command line in the Command Prompt.
dism /online /enable-feature /featurename:NetFx3 /All /Source:<X>:\sources\sxs /LimitAccess
In my case, i Replaced Source:<X> with the Source:E drive letter and make sure you leave spaces in the correct places. When you're ready, press Enter.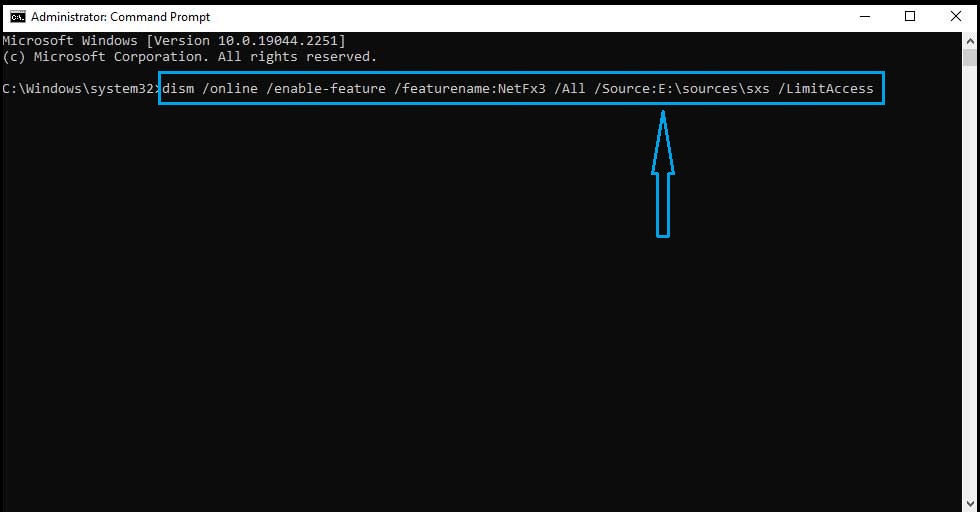 Also Read: How To Fix Microsoft .Net Framework Error HRESULT 0xc8000222
2. Performing a Component Cleanup
Damaged or missing system components can also be the reason for errors like 0x800f081f. Precisely for this reason, it is important to verify its integrity before moving on to other solving methods. With the DISM Component Cleanup switch, you can clean up your image and get everything working properly again. Here's how:
Open the Start Menu, type cmd,
Right-click and Run as Administrator.
In the elevated command prompt, type the following commands in the same order
sfc /scannow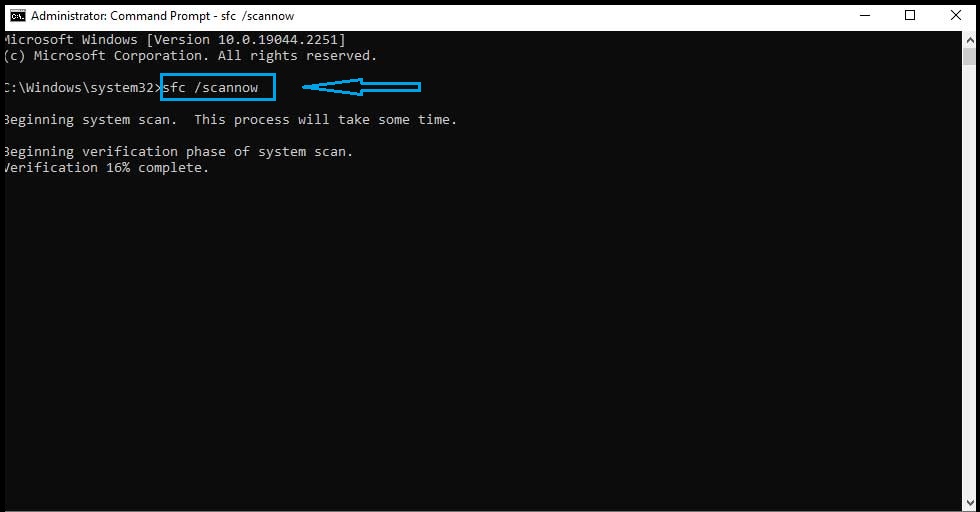 Wait for this command done 100%, When the fixing process is done. Run the following command again.
Dism /Online /Cleanup-Image /RestoreHealth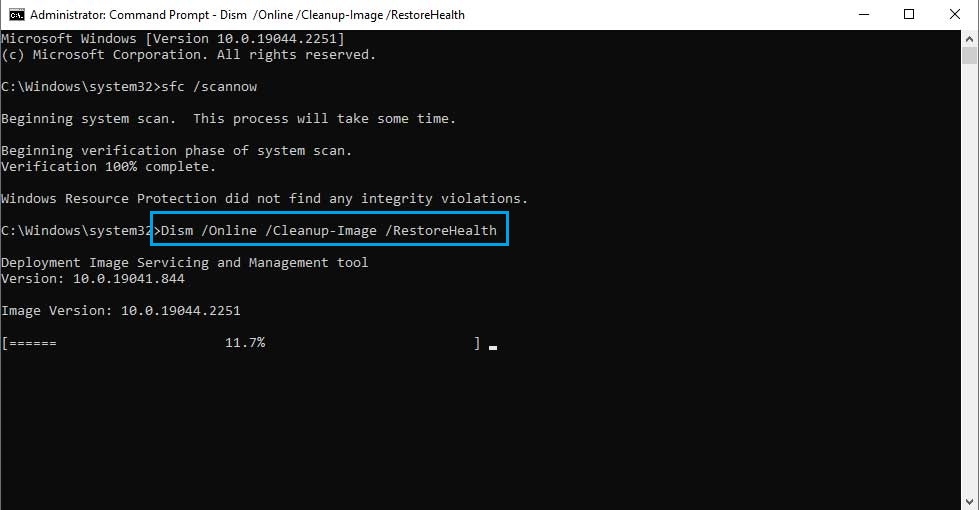 3. Try to Reinstall Microsoft .NET Framework 3.5 to fix 0x800F081F
Sometimes, Windows can't install important updates because of poorly configured .NET Framework software. The problem is most commonly seen with error 0x800f081f because Windows is having problems communicating with certain components. To fix it, follow the steps below.
Type Control Panel into the search bar next to Start Menu.
Open it up and choose Programs and Features.
Then select Turn Windows features on or off.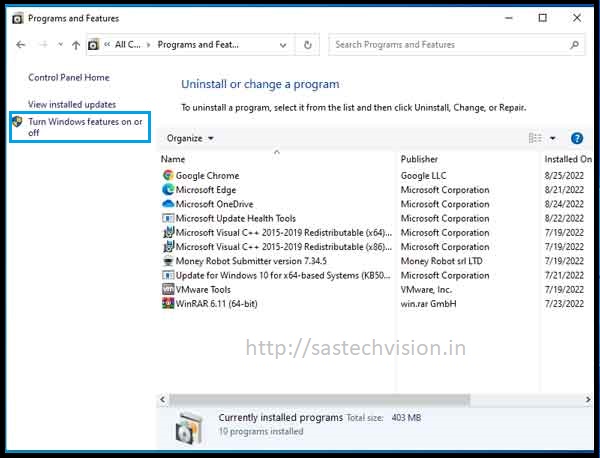 The list of Windows features will appear immediately.
You should find both .NET Framework 3.5 and .NET Framework 4.8.
Uncheck their boxes and click OK to disable them temporarily.
Then click Restart Now to reboot your PC.
Once you are back on the desktop, open the same window by repeating the previous steps.
Now you should check the boxes for two .NET Framework features that were disabled and click "OK".
Windows will therefore ask you to choose between two options. Make sure you select Let Windows Update download the files for you.
After the changes have been applied.
Also Read:-
4. Reset Windows Update components manually to fix 0x800F081F
Instances, where Windows has problems receiving cumulative updates from the server, occur several times. Although the previous steps should eliminate the server issue when getting updates, Windows may still have problems downloading the updates and show you the error code 0x800F081F. If this is your case, it is worth installing the necessary updates directly from the Microsoft catalog. Follow the following step to Reset Windows Update Components.
Search for Command Prompt, right-click the result, and select Run as administrator.
Type the net stop wuauserv command to stop the Windows Update Service and press Enter.
Type the rd /s /q %systemroot%\SoftwareDistribution command to clear SoftwareDistribution Folder and press Enter.
Type the net start wuauserv command to start the Windows Update Service and press Enter.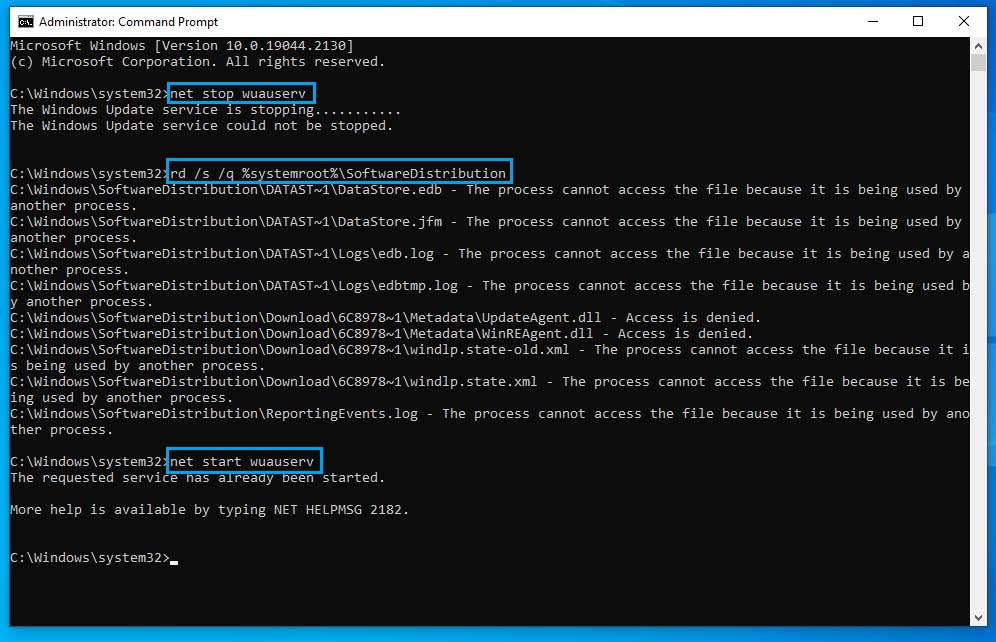 5. Configure Your Group Policy
Using this method, we can reconfigure Group Policy settings to force Windows to download repair content and optional features directly from Windows Update. Here is how you can perform this simple but very effective solution for Windows update error 0x800F081F. Group Policy Feature is not added in the Windows home version, so you have to enable the Group Policy Editor on Windows 10/11 Home Single Language.
Press Windows key + R combination and type gpedit.msc.
Local Group Policy Editor should be prompted. On the left panel, navigate to Administrative Templates > System.
On the right panel, scroll down the list until you find Specify settings for Optional Content Installation.
Double-click on it, make sure to select Enabled, and check the Download repair content and optional features directly from Windows Update instead of the Windows Server Update Services (WSUS) option.
After performing these steps, click Apply and OK to save the changes.
Again Open the Run Command Box Type gpupdate and hit Enter.
Facing 0x800f081f error or similar issues yourself can break your patience due to failed attempts. It is good that there are those who have tested and made the most effective solution in one direction to help users avoid wasting time and energy. We hope you are no longer a part of the 0x800f081f problem.